Do you receive the Pro Shop weekly newsletter?
If not and you would like to, please let us have your up to date email address.
The newsletter is filled with interesting facts, figures, special offers and club news/results.
Greetings golfers,
Welcome to the latest edition of the weekly pro shop newsletter. The Open starts this week and we hope you are looking forward to it and get the chance to sit down and watch some of the action. Enjoy the read.
Excited yet?
With Roger Federer's eighth Wimbledon triumph and Lewis Hamilton's record-equalling fifth British Grand Prix win, last weekend was very much one of inevitability and predictability. This weekend, however, promises to be anything but as Royal Birkdale plays host to The Open Championship.
The usual players will be among the favourites to lift the Claret Jug come Sunday evening, but with none of them seemingly hitting top form at present, this could well be one of the most open Majors that we've witnessed in years.
Foremost TV spent some time with three-time winner Gary Player recently, finding out his thoughts on Birkdale and who he thinks will be the next Open champion.
The Open sweep
It's time for the third major of the year and it's the turn of The 146th Open Championship at Royal Birkdale with all of the world's best players playing but maybe not in form.
With Coxmoor proshop you have a great chance to win by entering our Open sweepstake. For just £2 on a lucky dip, you get one of the players in The Open. We will be running this event over the 4 days of the competition.
Tickets can be brought in the Proshop and the winners will be announced on the Monday morning after the competition is decided.
New wedges = lots of spin
Here at Coxmoor, why not try one of our amazing wedges from PING and Titleist. The PING Glide 2.0 and Titleist Vokey SM6 are the most popular wedges being used in The Open this weekend providing great short game control around the greens.
Priced from £109.00 we have a great range to choose from in store now.
Victory for Coxmoor
Well done to our amazing junior team Thomas Eaton, Annie Bowman and Captain Jacob Creed on winning the Lamplugh Trophy at Notts GC Sunday, qualifying them for the Champion of Champions at Woodhall Spa in August. A great effort from all involved in the preparation and organisation of this fantastic event.
Well done again from the Team at Coxmoor. Any donations to the Junior Section to help fund the trip would be more than welcome.
It's not just about hitting the green…
If you really want to lower your scores this year it's important that you don't just settle for hitting the green, but instead focus on hitting the right part to avoid three-putt territory. This will be a key consideration for the pros at Royal Birkdale this week, just take the 17th green for example:
THREE-PUTT TERRITORY
While aiming for the middle of the green is usually a safe bet, if the flag is on a tier an approach to the wrong level (red zone above) will often lead to a three putt.
TRUST YOUR CLUBS
Having faith in your clubs and knowing their yardages allows you to be confident and aggressive when you need to go at a flag that is hidden by a hazard or tier (green zone above).
CUSTOM FITTING WITH TITLEIST
One way to enhance your confidence and learn all your yardages is to have a fitting session with a member of our team.
If you've not upgraded in a while, you'll also notice that new sets like the Titleist 716 AP2 irons can offer a lot more forgiveness in a relatively small head, helping your mishits fly much straighter, whilst providing workability for enhanced shot making.
Come and see the team next time you're at the club or get in touch via the button below.
Playing a new course isn't easy
A lot of golfers get excited about going to play at new courses - whether that's in club matches, invitation days or just a game with friends - but usually they go ill-prepared and find themselves struggling when it comes to judging new holes and hidden hazards. Take the below illustration for example:
A GARMIN GPS DEVICE CAN HELP
When you tackle a new course it can be very tough to gauge how far you have to hazards and to greens that sit above or below the fairway, which is why it's often difficult to play to your handicap.
However, with a GPS golf watch like the Garmin Approach S60, you can have a caddie on your wrist that identifies trouble via large colour maps on its touchscreen display.
It also delivers precise green and lay-up yardages for over 40,000 courses worldwide and you can get distances to any point on the course using Touch Targeting.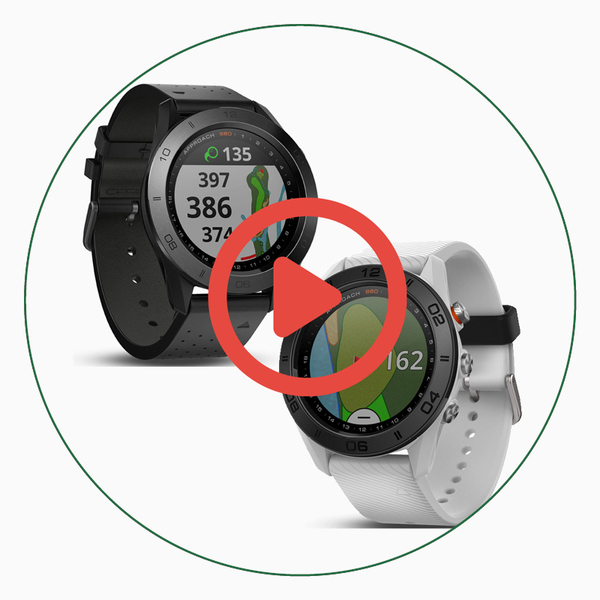 The most forgiving model in golf
We know that many of you have chosen to play PING products in the past, which is why we're sure that you'll love their brand new driver.
The G400 comes with PING's first ever forged face, more prominent turbulators and a tungsten sole weight to deliver longer drives and fairway-finding forgiveness - the ideal combination. A new iron, Crossover, hybrid and fairway wood complete this impressive line-up, so watch our video below to find out how your game could benefit from PING's latest range.
Video of the Week
It's Open Championship week so what better way to get into the spirit than by watching an exclusive interview with three-time winner Gary Player on Royal Birkdale, The Open and who he wants to see lift the Claret Jug come Sunday?
I hope you have a great week. Come into the shop if you want any help.
This email was sent to you by Craig Wright and is provided as a service for the members and guests of Coxmoor Golf Club and the customers of the Coxmoor Golf Club Pro Shop and has been supported and sponsored by advertisers in this mail and by our partner suppliers: Foremost Golf, UK's largest golf retail group, delivering value through expertise for the Club Golfer
® The Crest is a registered trademark of The Professional Golfers' Association Limited
Please click here if you want to stop receiving emails from Craig Wright